Almost all businesses require marketing efforts to promote their products or services to potential customers. This can be achieved through various means such as organic or paid advertising, social media, ,digital signage, events, or by word of mouth. The primary goal of marketing is to create awareness and generate interest in what you offer, ultimately leading to sales.
Large corporations may have the financial resources to spend millions on marketing campaigns, but as a small business owner, you need to be strategic and make the most out of your limited budget. This guide can provide you with a starting point for maximizing your marketing impact. We are going to discuss what marketing is, what are the main kinds of marketing, if word of mouth is still relevant, ways of marketing a small business and more.
What is marketing?
Marketing involves identifying your target market and establishing a connection with them. This differs from selling, which involves pushing your products or services to an already-existing market. Essentially, marketing is like matchmaking; it's about connecting what you have to offer with the ideal customers who are interested in buying it.
In addition, marketing plays a crucial role in creating awareness about your business offerings. This includes using marketing techniques to maintain your current position in the market, especially when facing competition. This is commonly known as 'defensive' marketing, where you aim to remind people that your business exists and to reinforce your brand identity.
Ultimately, marketing encompasses a range of strategies that aim to identify, connect, and engage with potential customers. By doing so, you can establish and grow your business's presence in the market, increase brand awareness, and ultimately, drive sales.
Market research. Why is important?
Market research is a vital marketing tool that can provide invaluable insights for your business. According to a survey conducted by GreenBook, 96% of marketers agree that market research is valuable for their businesses. Market research can help you in various ways, such as:
Testing assumptions about your target market
Enhancing your understanding of your customers
Identifying potential markets to explore
Pinpointing areas for improvement in your marketing plan
Refining your brand messaging
Identifying new marketing opportunities
Determining the most efficient and effective marketing strategy
Improving your product
Although you can conduct simple market research yourself using online surveys, this may not provide comprehensive results. Professional services, such as product testing and user experience (UX) research, can offer more in-depth insights.
However, it's crucial to identify the questions you want to answer and why, so you can justify the cost. It's also essential to remain open-minded and consider the findings, even if they don't align with your expectations.
After conducting market research, you can determine the kind of marketing required to reach your target market effectively. Here are some of the questions you can ask during the market research phase:
What makes your products/services stand out from your competitors'? Gain insights by asking customers why they chose your business and the value it added to their own.
How did your prospects become aware of your business? This can help you identify which marketing strategies are most effective.
Which prospects are most likely to convert into customers? Look for common characteristics among your existing customer base and adjust your marketing efforts accordingly. Prospects who share a similar profile to your current customers are eight times more likely to become customers.
What additional products or services can you offer to existing customers? Monitor their evolving needs and consider up/cross-selling opportunities through suppliers or third-party partnerships.
How can you maintain good relationships with existing customers? Providing exceptional customer service and experiences can encourage repeat business.
What are the main types of marketing?
Marketing comes in various forms, but most strategies fall into one of these four categories: Above-the-line (ATL), Below-the-line (BTL), Direct, and Digital.
ATL marketing utilizes mass media, such as TV, cinema, radio, billboards, and popular internet sites, to reach a wide audience. This method is typically broad in its message and aims to appeal to as many consumers as possible. For small companies, ATL marketing is usually limited to local radio and press, billboards, and the internet. According to a study by Statista, global spending on TV advertising is projected to reach $192 billion in 2023.
BTL marketing, on the other hand, targets smaller, carefully defined audiences using a combination of online and offline communication methods. BTL tactics may include online advertisements, search engine campaigns, social media, content marketing, events, free samples, and word-of-mouth. Measuring the impact of BTL is generally easier than measuring ATL. According to a survey by HubSpot, 61% of marketers say that generating traffic and leads is their top challenge.
Direct marketing involves reaching out directly to potential customers through various channels, including email, telephone calls, physical mail, and text messages. The challenge is to identify the customers most likely to respond positively to your message. Direct marketing must be accompanied by ongoing market research to be effective. According to the Data & Marketing Association, the response rate for direct mail to a prospect list is around 5.1%.
Digital marketing uses the internet and email to reach a targeted audience. Digital marketing methods can be BTL or ATL and include web ads, pay-per-click links, social media, email marketing, and content marketing. Digital marketing can be cost-effective, but it requires expertise to achieve value for money. According to a report by eMarketer, worldwide digital ad spending is projected to reach $605 billion in 2024.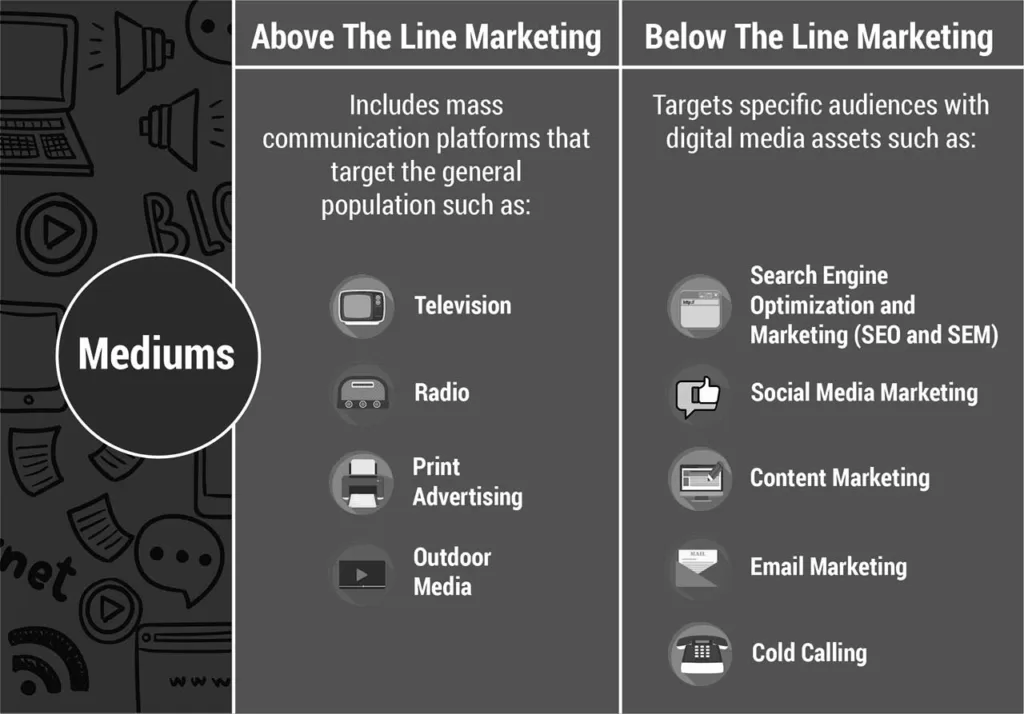 Ways of marketing a small business
There are numerous marketing types and strategies falling under the main categories of marketing, with new ones being introduced every year. Nonetheless, when it comes to establishing a new growing company, the following types can be considered as the crucial "wheels."
These types should work together in harmony, with each one reinforcing the others to increase their overall effectiveness. And are free or low-cost marketing types you can start on it immediately, such as:
1.) Having a modern, responsive website. To enhance your website's user experience, it's crucial to ensure that it is easy to navigate and use. Another essential aspect is to ensure that your website is mobile-friendly since a growing number of people prefer to browse the internet on their mobile devices. Moreover, Google's algorithm favours mobile-optimized websites, so it's essential to optimize your website for mobile users.
Page load speed is another critical factor that can impact your website's user experience. If your website takes too long to load, it can lead to a high bounce rate, negatively affecting your search engine rankings. Working with KIND M3DIA can give you many advantages, including a website that stands out and is optimized for your specific needs.
Read more: Why any business needs a professional website.
2.) Email marketing is a straightforward approach to connect with customers directly through their email addresses. However, it's crucial to gain their favour rather than merely acquiring a database of disinterested individuals who will disregard or mark your messages as spam.
To build an email list of interested people, you need to attract their attention by offering them something of value, such as free gifts, exclusive content, competitions, discount vouchers, events, and so on. This way, you can create a list of subscribers who are already engaged with your brand.
Once you have this valuable asset, it's important to nurture it and avoid sending marketing messages without additional incentives to remain subscribed. These incentives may include exclusive discount codes, early news about new products, product tips, interactive features, or other useful, interesting, or entertaining content.
By offering these incentives, you can incorporate your marketing messages in a way that benefits your potential customers, whether or not they choose to purchase from you. A good email marketing strategy is based on the principle of "give and take."
The other three types of marketing mentioned below can also serve as effective means to acquire potential customers' email addresses and repeat the entire process.
3.) SEO, or search engine optimization, has become an indispensable aspect of online business, with its influence growing exponentially in recent years. Did you know that over 90% of online experiences start with a search engine, and that the top result on Google's search engine results page (SERP) gets over 30% of the clicks? That's where SEO comes in!
SEO involves designing web pages in a way that is most likely to get them ranked highly by major search engines like Google and Bing. While it may seem like an art, it's also a science since search engines are continuously evolving and updating their criteria.
By investing significant effort into SEO, you can increase the chances of your website appearing at the top of search results, putting you ahead of the competition. This, in turn, will improve your website traffic, leading to an upward spiral of more visibility and higher rankings.
However, keep in mind that SEO is not a one-time effort. It's like a garden that requires regular tending to produce fruit and not wither. So, if you want to stay ahead of the game, be sure to regularly review and update your SEO strategy to keep up with the ever-changing search engine algorithms. Take action now and watch your online presence flourish!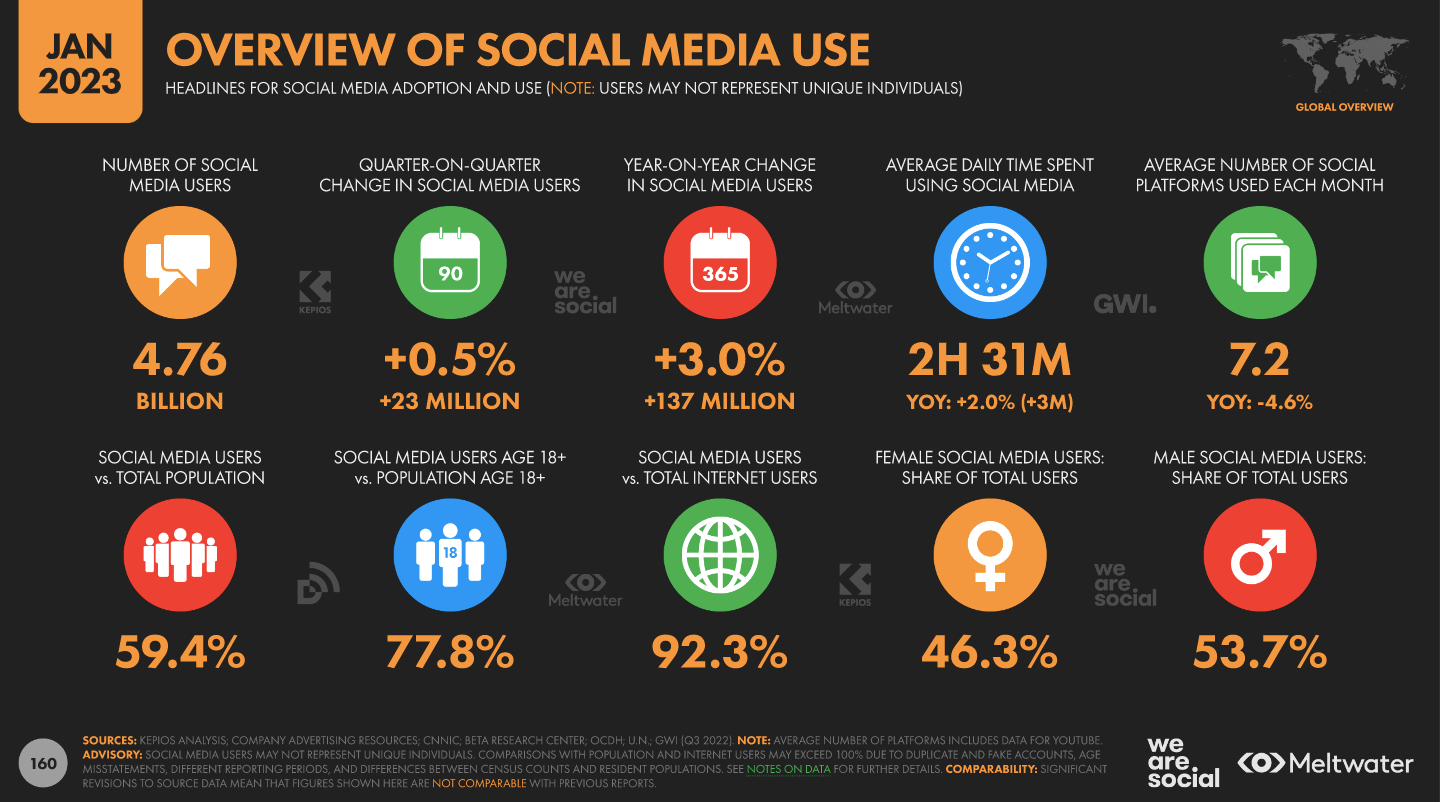 4.) In today's digital world, having a social media presence is vital for small-to-medium companies. Did you know that over 4.7 billion people worldwide use social media, with the average person spending almost 2.5 hours per day on social networking platforms? Therefore, it's essential to create a strong social media strategy to project your business's personality and make connections with potential customers.
However, creating a social media presence is not just about marketing your products or services. Many social media beginners make the mistake of focusing solely on marketing, which can be counterproductive. The first step is to build your online presence by being active and engaging with people on their terms, projecting a friendly and approachable personality, and making people aware of your brand.
Building a following can take time, but you can boost your visibility by publishing engaging content that resonates with your target audience. Use high-quality images and videos, catchy headlines, and informative captions to make your content stand out. You can also leverage hashtags and social media influencers to reach a wider audience.
Keep in mind that social media presence can be achieved organically, by posting regularly and creative content – in many formats, from videos to infographics; or can be achieved through paid ads, again in different formats.
Once you have built a loyal following, you can start incorporating more overt marketing strategies, such as sponsored posts. Facebook, in particular, offers affordable and effective sponsored post options that can help you reach your target audience.
However, it's essential to develop an appealing campaign that aligns with your brand's values and resonates with your audience. Experiment with different strategies and gradually increase your spend to identify what works best for your business.
Remember, creating a strong social media presence is an ongoing process that requires consistent effort and regular updates. By following these tips, you can develop a compelling social media strategy that engages your audience and drives business growth.
5.) Fairs and events participation. Attending festivals, fairs, and other events where your target customers are likely to congregate can be a great way to expand your customer base. For instance, if your business specializes in wedding photography, then you may want to attend a wedding fair. Similarly, if you sell outdoor & sports equipment, then sports tournaments could be a great opportunity.
At these events, use free giveaways, snacks, or activities to engage with potential customers and collect their contact information, which can be used for future email marketing. However, keep in mind that attending the most popular events can be expensive, so it is important to think outside the box.
Conduct market research to identify less-obvious places where your ideal customer might go and consider targeting those. A little bit of research can go a long way in finding the right opportunities to connect with your customers.
To give an example, a small local bakery was struggling to get new customers, even though their products were of high quality. The bakery owner decided to attend a local food festival to promote their products. They offered free samples of their delicious cakes and other pastries, as well as an opportunity for customers to take photos with a customized cake backdrop.
The bakery collected contact information from over 200 people who showed interest in their products. Using this information, they launched a targeted email marketing campaign, which resulted in a significant increase in sales.
Word of mouth can still be used as marketing a small business?
This can be one of the most effective forms of all – but there's a catch. Word of mouth is out of your direct control, since it depends on what other people say and do. Therefore, the way to shape your word of mouth marketing is to optimise the conditions for it, while working hard on all other aspects of marketing and customer relations.
Turn complaints into opportunities
Provide excellent customer service to turn unhappy customers into potential advocates
On average, a dissatisfied customer tells 8-19 people about their experience (Source: BrightLocal)
Encourage customers to review your product or service and link to review services such as Trustpilot. or Google My Business
91% of consumers between the ages of 18 and 34 trust online reviews as much as personal recommendations (Source: BrightLocal)
Provide excellent products or services to generate positive word of mouth
88% of consumers trust online reviews as much as personal recommendations (Source: BrightLocal)
Marketing a small business. Planning and budgeting.
Your marketing plan is the roadmap for how you will execute your marketing strategy. It should be a practical and detailed document that outlines specific actions and sets a budget for each activity. While your marketing strategy may outline the broad types of activities you intend to use, your marketing plan should refine these activities into specific, measurable, achievable, relevant, and time-bound (SMART) goals.
As you implement your marketing plan, you may encounter issues or problems with your original marketing strategy. For instance, you may find that your marketing channels are not effective, or your target audience is not responding to your marketing efforts. In such cases, it is essential to gather feedback, analyze the data, and refine your marketing strategy accordingly.
Regularly reviewing and updating both your marketing strategy and plan is crucial for ensuring that they remain aligned and effective. Without alignment, your marketing efforts may become unstructured and lack direction.
Therefore, make sure to monitor your marketing activities closely and adjust your strategy and plan as needed to achieve your marketing goals.
Here are some tips for developing an effective marketing plan:
Set specific goals and objectives for each marketing activity.
Determine your budget for each activity.
Prioritize your activities based on their potential impact and cost.
Assign roles and responsibilities to team members.
Set deadlines for each activity.
Regularly review and update your plan based on performance data and feedback.
Remember, your marketing plan is not set in stone. It is a living document that should evolve and adapt as your business and market conditions change. As for budgeting, creating a marketing budget is crucial for SMEs in the UK, as they often have limited resources and need to allocate them wisely.
A survey by Simply Business revealed that 42% of small businesses in the UK spend less than £1,000 per year on marketing, while only 13% spend over £5,000. However, it's important for small companies to not neglect their marketing efforts, as businesses that allocate more than 10% of their revenue to marketing have seen a revenue growth of 9.7%, compared to those that allocate less than 10% and see only 4% revenue growth.
When creating a marketing budget, small-to-medium companies should consider all necessary expenses such as advertising, content creation, social media, events, and any other marketing-related costs. By carefully planning and monitoring marketing expenses, small businesses in the United Kingdom can ensure they are getting the most out of their marketing efforts while staying within their budget.
If you have any struggle or you have suggestions for improving this guide please feel free to contact us. We are more than happy to take your recommendations in as is the fastest way to improve ourselves and to offer you the best advice. Help us so we can help you.