Designing a website can be a fulfilling experience, but it can also be challenging to maintain creativity and brainstorming ideas with your agency or freelancer. If you find yourself stuck in the overwhelming block, don't worry! We have compiled a list of amazing sources where you can discover inspiration and get your creative juices flowing.
From experience, designing websites for long-term clients may pose unique challenges, such as unfamiliar niches or requests outside the comfort zone. However, keeping up with website design trends and technologies has its perks. It can spark new ideas and help create more attractive websites, which could potentially lead to better results for your clients.
In this article, we will share some web design sites for inspiration that can benefit everyone involved. We hope this will help you overcome any creative and decisional roadblocks and assist you in choosing a stunning website for your business.
1. Behance
Behance is one of the largest design communities in the world, and its content is primarily community-curated. It's particularly useful if you're looking for photography, illustration, and graphic design examples.
When searching on the site, you can filter the available options based on:
Time frames
Popularity
Location
Tools used (Photoshop, Illustrator, etc.)
Creative field (Web design, UX/UI, Branding, etc.)
Colors
And more

Similar to Pinterest, Behance also uses 'moodboards' which you can explore and, as a member, follow or create your own. It also includes a job board where you can apply for freelance design work.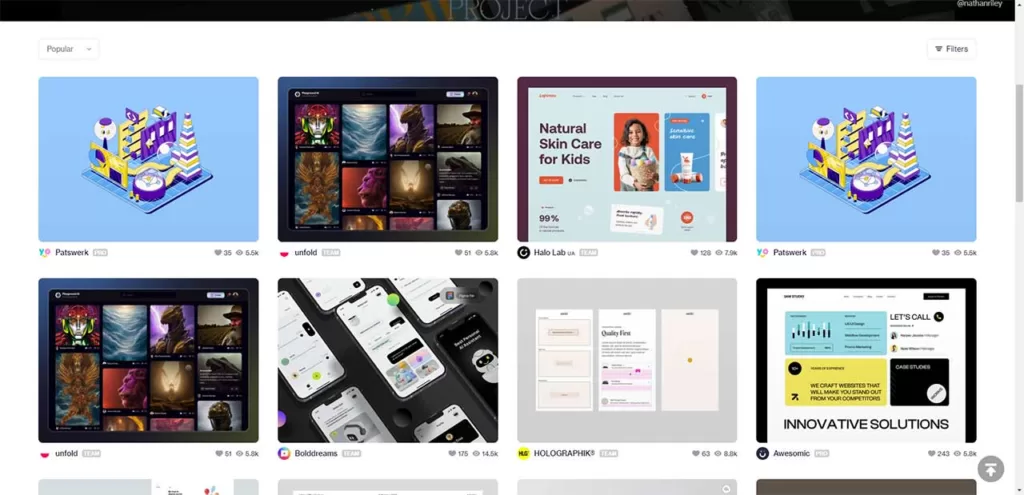 2. Dribble
Sometimes the problem isn't with the overall design concept, but with a specific facet or piece of the site. If that's the case, Dribbble is worth a look.
Several creatives and marketers utilise this website to get ideas for their creations. Anybody can post designs for various elements such as icons, apps, graphics, and more. Dribbble is also a good place to practise your talents of designer. In addition to web design, other subjects such as graphic design might be beneficial for exploring new styles and processes. Tags, like most of the other sites on this list, can help you narrow down your search.
This can be quite a useful library of assets for your to get inspiration from; for example, you can check colour schemes and illustrations for inspiration on your social media posts and profiles.
As a small business owner, you can find the right ideas to make you unique in your niche through bold messaging and visuals, illustrations and out of the box designs. Of course, if you lack the skills, it can still help you decide on what would you like, so would be included in your agency brief.
3. Pinterest
Pinterest provides a rabbit hole down which you can fall to locate practically any type of information. It's one of the most expansive and adaptable sites to obtain ideas and inspiration, with everything from recipes and concept art to marketing and design examples.
If you're new with Pinterest, it employs 'boards' where you can pin (or save) your favourite material. You can make several boards, invite people to view and contribute to them, publish them on social media, and even 'hide' them from the general public.
4. CssNectar
CSS Nectar charges a fee to submit websites, and each design is thoroughly inspected. This makes it simple to search the web for specific types of designs. As you probably guessed, is platform dedicated for more professionals, however looking at the nominee section, you can get web design sites for inspiration.
Filters can be applied based on:
Categories \sFeatures \sCountries \sColors
Another advantage of this website is that there are constantly fresh designs to discover. You can see how many 'likes' each one receives, as well as any honours or distinctions it has received, such as 'Site of the Day'.
5. SiteInspire
SiteInspire is another great place to get ideas. This website showcases and provides a large selection of some of the top web and interactive designs.
SireInspire has an extensive tagging system that allows you to search for a certain piece or feature by using multiple tags. Entries can be filtered by style (design patterns and layouts), category, subject, and platform.
SiteInspire also allows you to make collections of your favourite designs if you want to establish a go-to list of website design inspiration. To become a member, simply create an account.
6. Admire The Web
Admire The Web isn't particularly impressive in terms of design or user interface. Again, this platform is heavily orientated for designers and professional graphic artists. It does, however, provide carefully chosen site designs that can be used as inspiration.

The designs are heavily labelled, allowing you to rapidly filter your search to a specific component or theme. When looking for similar cases, there are also'related content' recommendations.
7. Designspiration
Designspiration is a terrific resource for anyone trying to extend their horizon of what's possible in design. It's built much like a personal mood board. This platform offers its users a straightforward and value-packed spectrum of inspiration in an easily digestible structure, from physical to digital, typefaces and photographs.
Has something for everyone, no matter what project you're working on, what you do or look for. From our experience, we've found the perfect colour schemes and "moodboard" for our office decorations and furniture.
Designspiration, which was founded to promote creativity and design ideas, has built an open network for designers and creatives to share their work and inspire others, either is from interior design to web design and everything between.
8. Best Website Gallery
The name Best Website Gallery speaks for itself. Best Website Gallery, with its diverse selection of styles and aesthetics, is a must-visit while looking for ideas for your next project.

Best Website Gallery contains a large library of unique designers who are guaranteed to inspire your next amazing idea. Best Website Gallery is almost like a digital visual bookmark due to their ability to dive down and select from a wide range of filters and categories.
We hope these resources can help you with inspiration blockage. As we've seen some of these web design sites for inspiration libraries can actually be used in our daily life, either is for getting the right colour scheme for our business cards or kitchen.
Even if you don't use directly these web design sites for inspiration, you can feed them to your freelancer or web design agency to give them an idea of what are you looking for on your business website.
And, as always, if you have any struggles or have questions please feel free to contact us. We are more than happy to assist you and to give our advice.