This article assumes you have some knowledge and experience using Google Search Console. If you're new to Google Search Console you might want to brush up your Google Search Console basics.
In order to understand the difference between a domain property and the other type of Google Search
Console property, a URL prefix property, we must first remind ourselves of the difference between a domain, a subdomain and a URL prefix.
Say the homepage of your website is https://www.example.com this URL constitutes the following components:
protocol: https://
subdomain: www.
domain: example.com
The protocol and the subdomain (if there is one) is the URL prefix. Usually, a website exists on just one protocol (either HTTP or HTTPS), with just one subdomain (if any). I.e. they have just one URL prefix. However, there are a number of reasons that there may be pages on a website that have different subdomains and protocols – some intentional and some not.
If redirects are not correctly implemented to ensure only one protocol and subdomain is available to users, duplicates of the site may exist on HTTP, HTTPS, www. and non-www. versions of the site. Some sites may deliberately use subdomains for hosting different types of content, e.g. https://blog.example.com or https://account.example.com.
What is a Domain Property in Google Search Console?
In Google Search Console are two types of properties:
URL Prefix property – which reports only on metric for that particular URL prefix
Domain property – which reports on metric from every combination of protocol and subdomain for the domain (if it's in Google's Index)
You don't need to choose between either a URL prefix or a domain property when setting up Google Search Console – you could have a domain property and individual URL prefix properties for important URLs or subdomains that you'd like to track individually.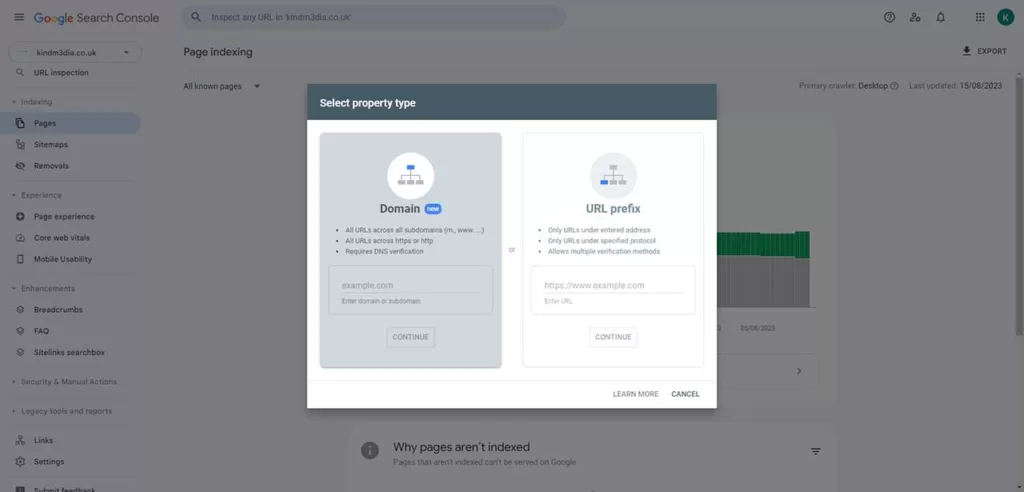 What are the Benefits of a Domain Property in Google Search Console?
What if you only have one URL prefix for your website, and have redirects correctly implemented to
consolidate all the URL prefix versions? You may think you only need a domain property – they'll be exactly the same after all, right?
Not necessarily. We always recommend that sites have a domain property and a URL prefix property set up. Domain properties are a great way to identify indexing issues, such as rogue subdomains you didn't know existed (either legacy pages that are still indexed, or have somehow been re-indexed), HTTP URLs finding their way into the index (could indicate an issue with redirects), or even hacked subdomains.
If you only had a URL prefix property set up for https://www.example.com, it would be easy to miss HTTP URLs getting impressions or clicks all of a sudden, and you would probably be completely unaware if you'd been hacked and started having content indexed on https://dodgycontent.example.com.
As summary, here are the main benefits of having a domain property:
Easy to identify all subdomains and indexed versions of the site
Easy to spot indexing issues, such as HTTP versions of the site getting indexed
Track any new indexed subdomains (e.g. as a result of hacking)
Track overall traffic changes and patterns over time for the whole domain. Useful for consolidating all traffic data over time if the site has migrated from HTTP to HTTPS, migrated between subdomains or moved from a separate mobile subdomain (e.g. https://m.example.com) to a single responsive site.
How Do You Setup a Domain Property in GSC?
You can set up a Google Search Console domain property without verifying that you are the site owner. However, in order to access the data, you must verify the domain. Which means you will need access to amend DNS records. If you do not have this access, you'll need to speak to your developer.
Go to Google Search Console and select the drop down from the top left-hand corner. Click 'Add Property'.
You'll be prompted to choose a domain property or a URL prefix property. Choose domain property and enter your domain.
The next screen you'll see will ask you to verify your domain by pasting a TXT record into your DNS configuration. To do this you need to sign into your domain name provider (GoDaddy, 123reg etc) and paste it in. Where this needs to be pasted varies depending on the domain name provider. You can look up your specific instructions.
Return to Google Search Console and click 'Verify'. You may have to wait a few minutes for this to propagate, so don't worry if it doesn't work first time.
If you encounter any challenges or have suggestions to enhance this guide, please don't hesitate to reach out to us. We eagerly welcome your input as it's the swiftest route to our self-improvement and providing you with top-tier advice. By assisting us, you allow us to assist you better.